Carpet Works for Work
The beauty, performance, value, and sustainability of carpet make it the right choice for schools, healthcare facilities, offices, and shopping spaces. Carpeted floors cushion the impact of slips and falls, dampen unwanted noise, and make it easier to learn and concentrate. Today's carpets are environmentally friendly, engineered to resist staining and fading, and withstand even heavy foot traffic along with providing numerous other benefits.
Carpet Provides Design Flexibility
Create a work environment that reflects your organization's culture. In an educational or health-related setting, calming colors provide an appropriate environment for learning and healing. The thousands of carpet styles and colors available allow you to set the tone for corporate and creative spaces. Whether you're choosing broadloom or carpet tile, carpet is easy to customize in any facility.
Carpet Reduces Noise and Increases Productivity
Carpet is significantly more efficient at reducing noise when compared with other flooring options. Many offices today have open area floorplans where phone conversations and frequent employee interactions can be distracting. Carpet helps increase employee productivity by absorbing sounds and improving acoustics so everyone from employees to students gets a quieter, less distracting environment where they hear more, concentrate better, and perform their best.
Adding cushion beneath your carpet reduces noise even further. Carpet also works as a sound barrier between floors by blocking sound transmission to spaces below. Plus, carpet on stairs helps mask the sound of constant foot traffic.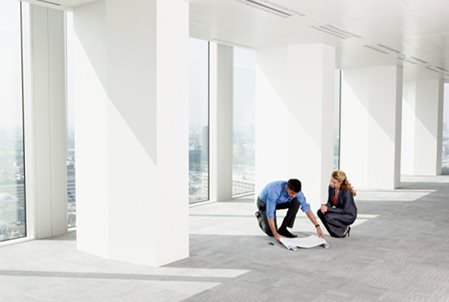 Carpet Cushions Slips and Falls
Carpet is ideal for cushioning our footsteps, reducing slips and falls, and minimizing injuries when falls do occur. While it provides safety protection for everyone, it's particularly helpful for youngsters at schools or the elderly at facilities like hospitals or nursing homes.
Carpet Provides Warmth and Comfort
Carpet provides insulation and thermal resistance (R-value). In colder climates or seasons, it retains warm air longer, allowing for energy conservation. Carpet creates a comfortable environment in which to work and gives a space a warmer feeling overall.
Carpet Meets Green Building Standards
Carpet systems approved by CRI's Green Label Plus indoor air quality standard can contribute one full Indoor Environmental Quality Credit to the Leadership in Energy and Environmental Design (LEED) ratings of the U.S. Green Building Council. Similarly, the Green Guide for Health Care awards one point to healthcare facilities that install Green Label Plus carpet. Furthermore, Green Label Plus carpet is used as a specification standard for the American Lung Association's Healthy Home program, the Collaborative for High Performance Schools (CHPS), and the state of California.
Carpet is Certified to Have Low VOCs
As compared to other common flooring options used in new construction and renovations, carpet emits the lowest level of volatile organic compounds (VOCs). It also requires fewer cleaning chemicals for maintenance than do other floor coverings. CRI's Green Label Plus standard carpet brings those VOCs down even more. The VOCs new carpet does emits are short-lived and largely dissipate within 24 to 48 hours – even faster with fresh air ventilation.
In addition, carpet improves indoor air quality by trapping allergens and other particles so they can be easily vacuumed away.
CRI's Green Label Plus standards, which have been adopted across the industry, serve as the benchmark for low VOC emissions. The Green Label Plus symbol indicates:
The manufacturer voluntarily participates in the program.
The manufacturer is committed to developing ways to minimize adverse effects on indoor air quality.
A representative sample of the product type has been tested by an independent laboratory and meets the highest established emissions requirements.
Carpet Saves Money Over Time
Carpet will maintain its life and beauty for many years when properly cleaned and maintained. In terms of both labor and cleaning supplies, carpet saves you money over the long run.
ANCHOR – Carpet and Health
Carpet and Health
Carpet Keeps Allergens Out of the Air
Many people believe carpet is the wrong flooring choice for people suffering with asthma and allergies; however, the opposite is true. Research consistently shows that carpet improves indoor air quality in a number of ways. Most notably, it acts like a trap, keeping dust and allergens out of the air we breathe. Simply put, dust, pet dander, and other particles that fall to the carpet stays trapped until it is removed through vacuuming or extraction cleaning. In contrast, smooth floor surfaces like hardwoods and tile allow dust and other allergens to collect and re-circulate into the breathing zone.
Carpet Puts You on Safer Ground
Carpets and rugs decrease the likelihood of falls by providing better traction than other flooring options. This is true everywhere but is even more important in areas where people enter a building after walking through significant rain or snow. And if falls do happen, carpet's softer surface reduces their impact. Whether you are in a business, school, hospital, or another facility, fewer falls and less severe injuries provide one more reason carpet is the flooring choice you can feel good about.